Other Services & Supplies
Services
Supplies
We also offer other value-added services & supplies
"Services" and "Supplies" may be ordered during the normal ordering process for paper, canvas and greeting cards.
It is also possible to order "Services" or "Supplies" without placing a print order. Just click on any of the links below either "Services" or "Supplies" and you will be taken to a dedicated order form.

Services
Proofing
Proofing is highly recommended when you want to make sure that your submitted images will look their best as final prints. It is also recommended when you are ordering a large quantity of prints.
Proofs are printed on the canvas/paper that you ordered and then are mailed to you via first class.
Proofing is a one time fee charged on a per image basis.
Single Proof: $10.50
We take your original image and print a small, approx. 4" x 5" image as well as a 2.5" x 5" detail at full size.

Double Proof: $18.50
We take your original image and print a small, approx. 4" x 5" image as well as a 2.5" x 5" detail at full size.
We then take that same image and adjust it to provide you with an alternate that may in some way improve its color and range from light to dark.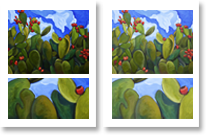 Match Proof: up to $35
We adjust your image according to a "match" or reference print or the original provided by you.
Close

Original Art Capture
Scanning Original Art
Scanning an original can produce stunning results. It is usually very difficult to tell it from the original.
Scanning is a bundled service which includes:
Scanning your original at a very high resolution
Color correcting to match the original
Copying the completed image onto a CD
The cost for scanning is determined by measuring the outside dimensions of your original -- not just the image area. So please be sure to enter the correct size.
Scanning Costs:
Up to 1 square foot: $50 (i.e. 4x5, 5x7, 8x10, 9x12)
Up to 2 square feet: $65 (i.e. 11x14, 12x18)
Up to 3 square feet: $80 (i.e. 16x20, 18x24)
Up to 4 square feet: $95 (i.e. 20x24)
Up to 5 square feet: $110 (i.e.20x30, 24x30)
Up to 6 square feet: $125 (i.e. 24x36)
Up to 7 square feet: $140 (i.e. 28x36, 30x30)
Up to 8 square feet: $155 (i.e. 30x36)
Up to 9 square feet: $170 (i.e. 32x40, 36x36)
10+ square feet: $185 + $17 per additional sqft
We also discount for scanning multiple pieces at one time. The discount rate is :
2-5 pieces: 15% discount
6-9 pieces: 25% discount
10+ pieces: 35% discount
NOTE: If your original is too large for us to scan (generally anything over 30 x 40) then we may need to take a photograph instead.
Photographs of originals that we take are not as high in resolution as our scanned images. If photography is required, we will notify you in advance of doing the work to get your approval.
Scanning Slides or Transparencies
One 35mm slide or negative - $45
35 mm slide and negative scanning discounts:
2-3 - 15% discount
4-5 - 25% discount
6-7 - 35% discount
10 or more - 40%
Close

Photo Retouching
Photo retouching is available on an hourly basis. We charge in 15 minute increments and our hourly rate is $75.
Matting
We can custom cut any mat to order. There are three different levels of mat quality available:
Basic
White or black core
100% cotton rag
Once we receive your order and understand the quality, quantity and size of the image, we will forward to you a balance due for the custom mats.
We stock a limited number of mat colors.
Dry Mounting
There are two different mounting services available for any size up to 20x30":
Foam core - 3/16" thick
Gatorboard - 3/16" thick
We also have acid free foam core.
Laminating
Laminating is an excellent way to protect your prints.
We use a 3ml or 5 ml laminate which is available in either gloss or matte
Supplies
Print Sleeves
We offer clear print sleeves that range in size from 4" x 6" to 32" x 40". Sleeves have folding adhesive flaps.
Backing Boards/Foam Core
We can custom cut backing board or foam core to order for any size up to 20x30". Backing board is 4 ply thick. Foam core is 3/16" thick.
Card Sleeves
Individual card sleeves are available for both the 5" x 7" as well as 4" x 6" sizes. Sleeves have folding adhesive flaps.
Card Boxes
Our card boxes come available in both 5" x 7" and 4" x 6" sizes. Five to seven card/envelopes can be placed in each box.
Suggestion Box
If there is a service or a supply that you would like to recommend, please let us know. You may contact us at: info@picturesalon.com